"Ariel was very shy since she was a child. She was easily nervous when speaking to classmates and teachers at school, and her parents never thought she had such a talent."

- Ariel's Mother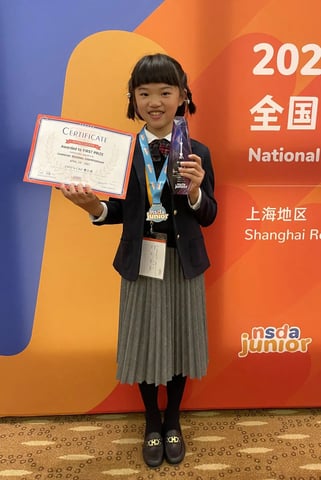 On April 24th 2022, students from LearningLeaders participated in the first NSDA Junior Speech and Debate Competition in Shanghai, China. When it came to the announcement of the champion, runners-up and third place, LL's young competitors took home half of the available prizes. Parents felt gratified for such excellent first-time results, but also excited to have seen their children gain self-confidence, progress and growth through public speaking.
When did Ariel start public speaking and debate?
Ariel began public speaking in Grade 4 and joined LearningLeaders in Grade 5. She won the first place in the NSDA Junior free speech group. The judges present unanimously commented that although she is young, her strength, clarity of expression, and energy were amazing.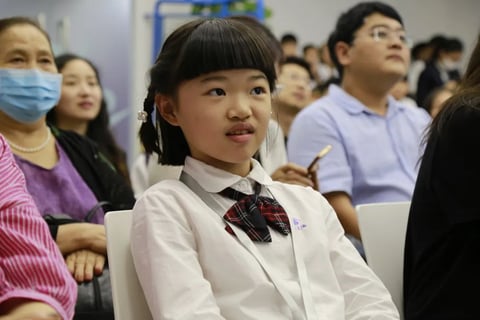 What was her mother's opinion of this?
The LearningLeaders team heard from Ariel's mother that Ariel was very shy since she was a child, and nervous when speaking to classmates and teachers at school. The turning point began in the third grade of elementary school. At that time, Ariel was recommended by the school to participate in an extracurricular activity similar to TED Talk, but she forgot her words during the first rehearsal. Ariel was naturally a little depressed and felt inferior to other children. But her mother felt that was lacking wasn't ability, so much as practice and self-confidence. With the encouragement of her mother and teachers, Ariel went home and practiced every day, becoming more and more comfortable. When the event took place, everyone could see that she had made great progress.
This experience planted a small seed in Ariel's heart. Under the guidance of her mother, Ariel signed up for the World City Day Youth English Speech Competition (WCDPSC) hosted in Shanghai in 2020. Through workshop learning and her own continuous efforts, she stood out from more than a hundred contestants and won the Award for Best Artistic Expression.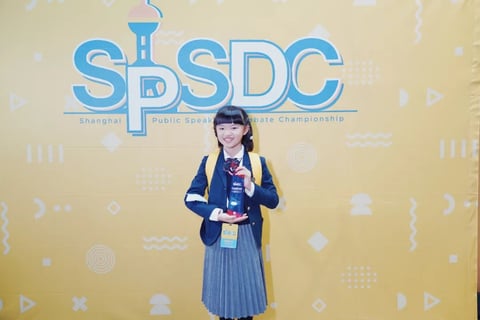 By the time of the Shanghai Public Speaking and Debating Championships (SPSDC) in 2021, Ariel had already started to gain more stage and practical experience, and her mother noticed that she had made significant progress. She had been exposed to a wider range of topics, her thinking had deepened, and her speeches became more convincing. Ariel won the championship of public speaking in the elementary school group of that competition.
Ariel is a very self-driven kid. For the NSDA Junior competition, she prepared a familiar topic, carefully pondered every sentence before the competition, and carefully designed every expression, gesture and movement. As a result, not surprisingly, she won the championship again.

How did these experiences change Ariel?
Ariel's mother has a very positive answer to this question - her daughter has become very confident because of it. From shyness to calmness; this is the power of public speaking, which has helped to make her daughter cheerful, confident, and full of curiosity for learning.