Public Speaking Academy for Kids in Singapore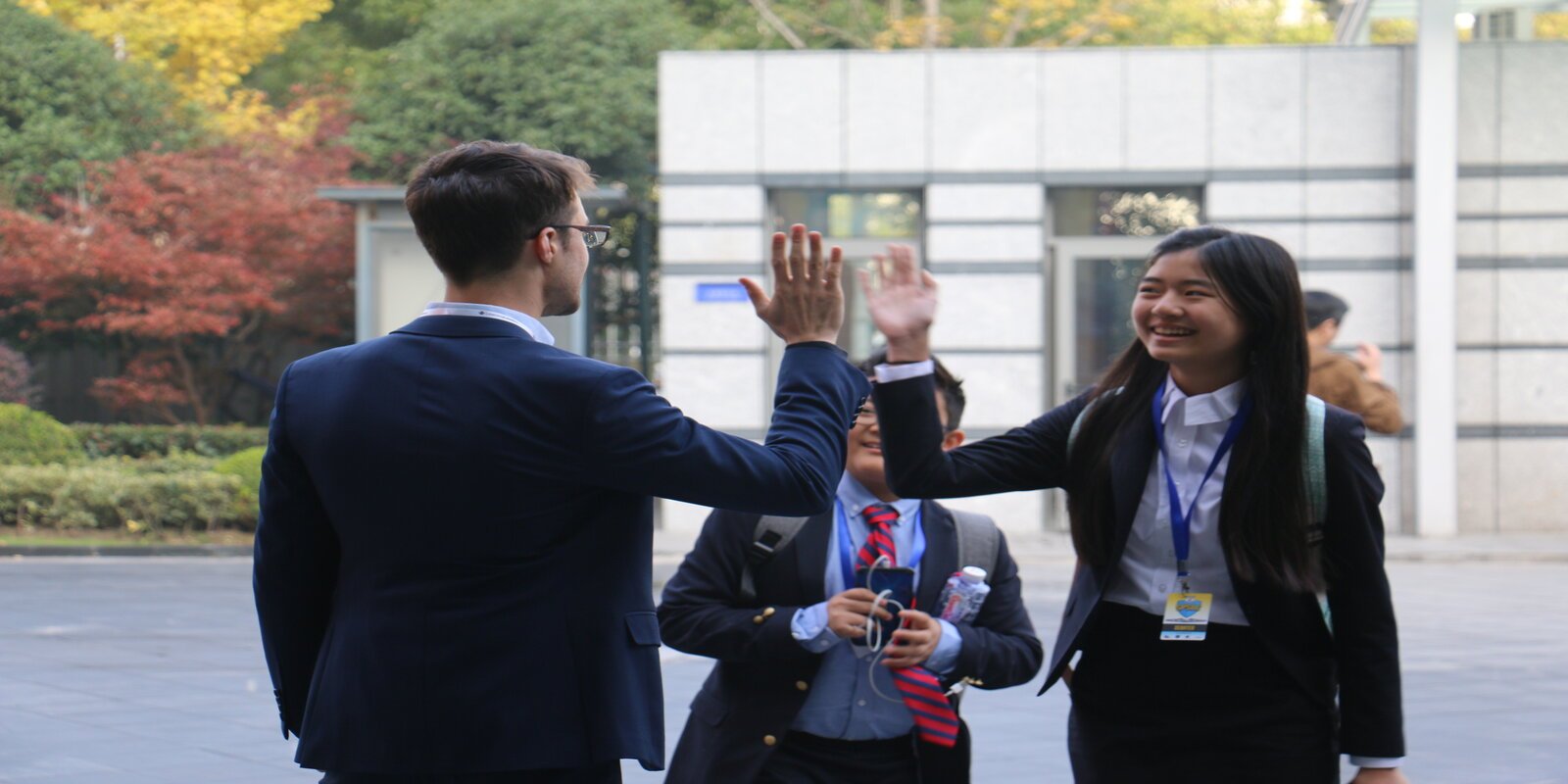 Public Speaking Academy for Kids Singapore
Are you looking for ways to help your child develop both on an educational and personal level?
Enrolling your kids in a public speaking & debate academy could help in this regard. Public speaking & debate have been proven over decades to be some of the best skills a student can take with them, no matter their school or future career path.
While engaging in public speaking or debate, your kids will learn how to express themselves confidently and articulately - both verbally and non-verbally!
By attending a public speaking academy, like LearningLeaders, your kids have an edge when applying for International universities. They would develop better presentation skills.
Developing effective communication skills and presentation techniques will help them navigate through different aspects of life and career with ease.
Let's take a look at some advantages students going to International Schools in Singapore could benefit from by attending a public speaking class or debate academy and why it might just be one of the best decisions you make for your children's future!
The Benefits of Developing Public Speaking Skills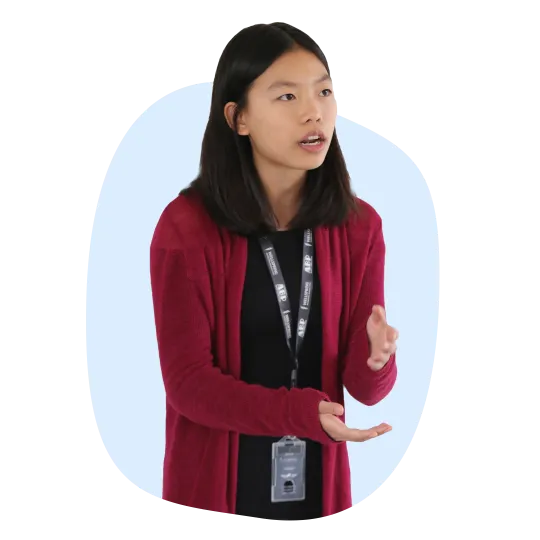 Public speaking academy classes in Singapore can help develop confidence and hone the public speaking skills of your child.
A strong public speaking course can help children express themselves better, connect with others, and make their messages heard. It also allows them to stand out from the crowd, learn vital communication skills, build relationships, and better articulate ideas.
While this is true, we understand that successful public speaking can be a nervous task for some students. A majority of kids might struggle with giving speeches; and presentation skills. You can easily identify this by looking at their body language.
By attending public speaking academy classes, your child can practice public speaking in a comfortable environment as well as get tips on delivery and engagement from experienced coaches.
Ultimately, public speaking classes could provide your child with the foundations of self-confidence that they can carry into their academic and professional lives. Just imagine seeing your child confidently deliver an impromptu speech to a packed-out room!
LearningLeaders Public speaking course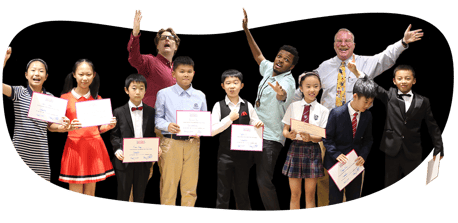 Introducing LearningLeaders – a Public Speaking Academy for kids in Singapore!
Whether you want your child to learn the fundamentals of communication or refine their existing expertise, our programs can provide immense value by teaching them the art of conveying their message effectively.
LearningLeaders teaches children the vital techniques of constructing powerful speeches and presentations, developing leadership qualities, incorporating feedback, research skills, and more - all while improving self-confidence and forming a pathway toward success in any career they pursue.
Our world-class academy is an ideal setting to provide your child with critical thinking, public engagement, and problem-solving skills. Our public speaking classes can help your child communicate with conviction.
Understanding the Different Aspects of Public Speaking and Its Importance
When it comes to communication, public speaking can be daunting for kids (and even adults).
For kids going to International Schools in Singapore, understanding the different aspects and techniques of public speaking can be especially beneficial.
Public speaking courses not only provide an opportunity to convey messages through words but also through body language and facial expressions. Once mastered, these communication skills are essential in day-to-day interactions as well as in more formal settings such as during interviews or giving presentations.
For example, it is equally important to know when to use a casual tone compared to a professional tone for communication to be successful. By only using a formal tone even in casual situations, a student may be seen as overly-serious, and not approachable. However, only using a casual tone may appear unprofessional or insincere.
For instance, a casual tone may suit when students talk to friends & family about their interests. But this tone may not be best when asking their teacher for an extension on their homework deadline, or when presenting an educational project!
These examples require a more respectful & formal approach. Therefore, practicing public speaking can help equip children with the necessary tools to become successful communicators.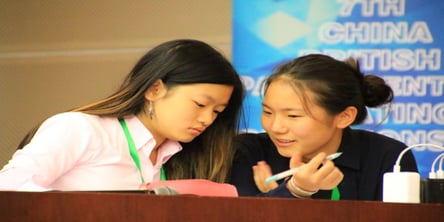 How LearningLeaders Can Help Your Child Succeed
With the globalization of education through elearning & technology, public speaking has become increasingly important for students in recent years.
Attending live public speaking classes provide many benefits, such as developing a better understanding of communication foundations, building social connections, and boosting self-esteem.
With the right approach and techniques, your child can easily turn these communication classes into an enriching experience that will positively impact their ability to speak before an audience.
By focusing on providing support and encouragement, you can help your child make the most of these communication courses and learn valuable skills related to public speaking that they'll carry with them through life. Check out our tips to improve public speaking at home.
LearningLeaders' live online public speaking & debate classes in English are invaluable tools for preparing your child to succeed within the international school circuit.
LearningLeaders Courses: Unique Methodology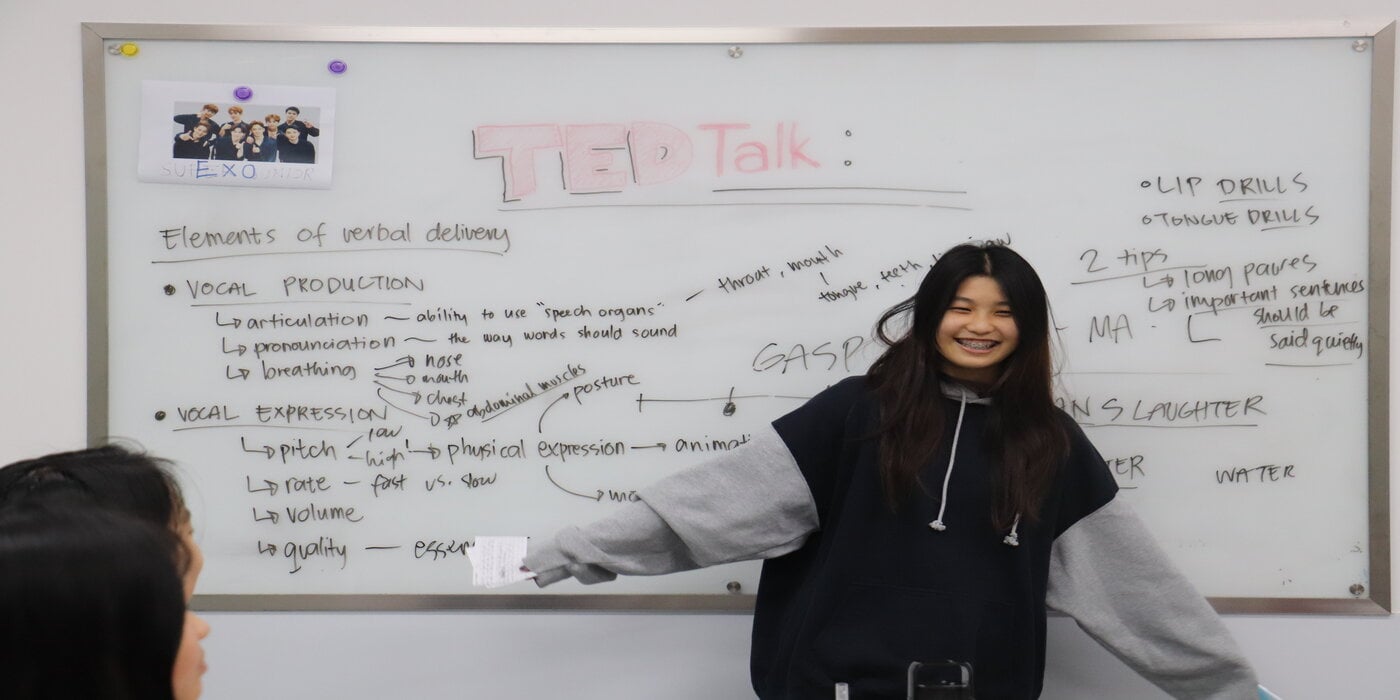 Let's take a closer look at The LearningLeaders skills first teaching methodology, or as we call it, "The LL Method".
Our personalized communication skills training for leaders guarantees small class sizes which offer a social group for peer-to-peer learning.
Our classes have a maximum of 8 learners per coach. Not only does this make it possible for every student to be heard, respected, & understood, but it also makes for fun & engaging activities!
Our skills first approach consists of 3 mediums and combine them all to give our learners the best experience possible. These are Active, Interactive, & Reflective Learning.
Active Preparation
Students begin each lesson by actively learning one of over 200 unique skills-focused lessons on the platform. There are over 500 in-depth lesson videos, complete with multi-language subtitles and quiz questions to ensure they are paying close attention and retaining the new concepts.
Once kids are through these video lessons, they can check their written independent work assignments, which often involve answering guiding questions, writing or revising speeches, or preparing for a debate.
These assignments are designed for students to immediately implement the lesson material, reinforce targets, and to allow them to start formulating questions for their coach in class. This all depends on the course they are enrolled in, and which lesson they are focused on.
Interactive Lesson
The lesson review is interactive; the coach covers the materials by asking questions, clarifying information, and presenting a variety of examples. Coaches will type on this whiteboard and ask students to take notes. Mini-exercises are also introduced after key concepts to help students immediately apply the theories learned.
For any team activities and debates, kids are separated into breakout rooms where they can have conversations in smaller groups more informally. Coaches can come in and out of a room to provide additional support as needed.
Finally, during independent work time, coaches can individually check in on each student's progress through the use of shared notebooks and documents. This means that coaches can see what kids are preparing or writing in real time and leave comments or make suggestions in the document without disturbing other learners.
Reflective Feedback
Finally, after class, learners may receive additional feedback on their communication skills from coaches through writing or through video. This gives kids a library of feedback that they can reflect on to see how far they've grown. Every video and piece of feedback is personalized - children know they're receiving individualized guidance.
Children then are asked to write reflections or submit video responses to coach feedback to ensure they are deeply considering how best to grow and improve. Coaches can also provide personalized recommendations for further videos, lessons, or resources to help kids dive deep into improvement areas and maximize their strengths. This stage of reflective learning is so often overlooked, but with the LearningLeaders Method, reflection plays a central part in learning.
All-in-all The LL Method is focused on creating lifelong communicators who can communicate effectively, no matter the situation!
Exploring the Different Types of Courses Offered by LearningLeaders
LearningLeaders provides a variety of public speaking courses for children ages Grade 5-12 to help students in Singapore international schools improve public speaking.
Students in Singapore International schools benefit greatly from these opportunities, allowing them to feel prepared and comfortable when they must speak in front of large groups or participate in debate competitions.
With the right instruction and support, a public speaking course can give kids the confidence they need to become superior public speakers.
Academy Program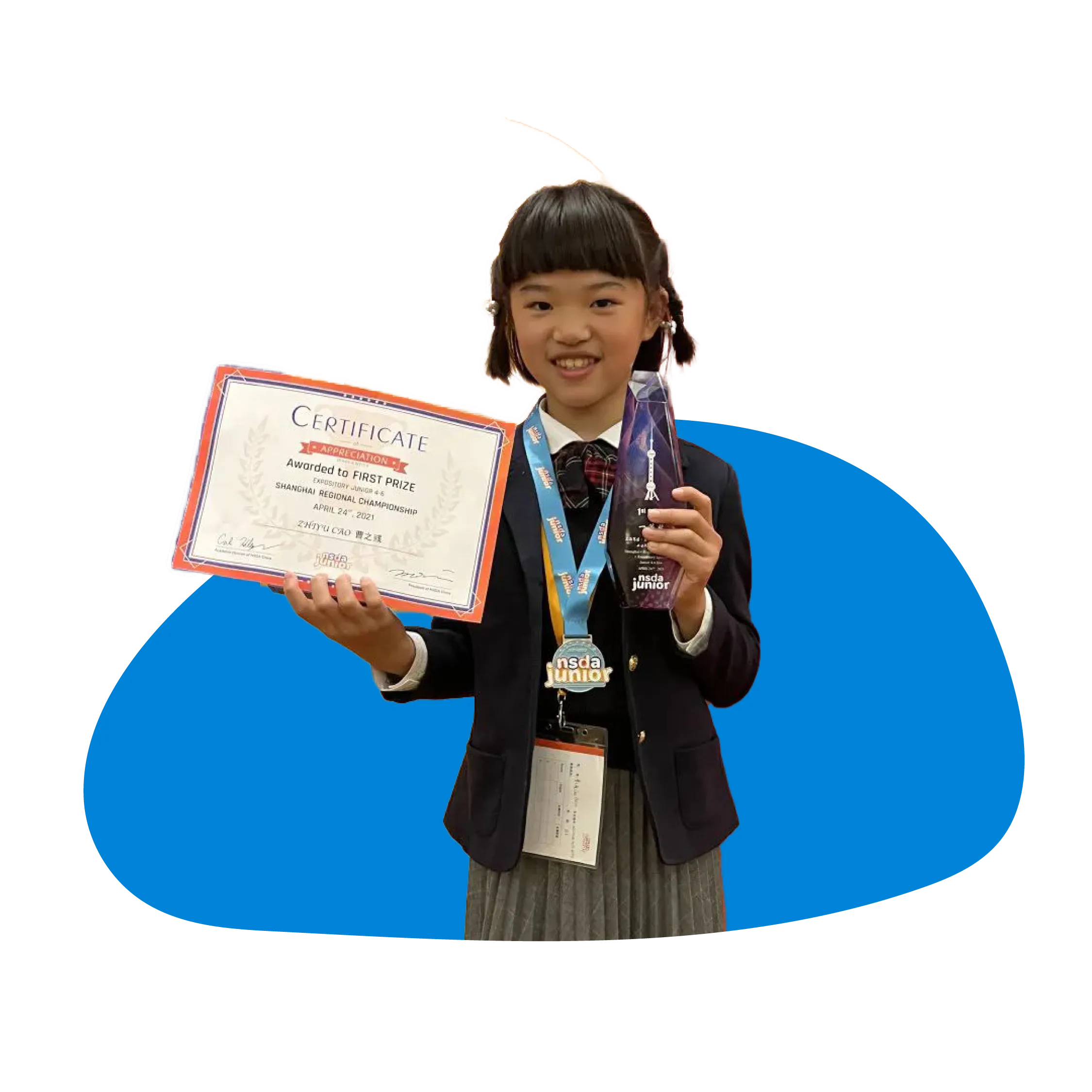 This public speaking academy course is perfect for kids with some or limited experience in public speaking or debating, or participation in Local or National Competitions. Kids receive systematic coaching to improve communication skills and by the end of The Academy course, kids will have learned to communicate with confidence.
With our public speaking course, children gain critical communication skills in five major skill families that are essential to communicating effectively. These are Delivery, Organization, Argumentation, Engagement, and Mindset.
Elite Program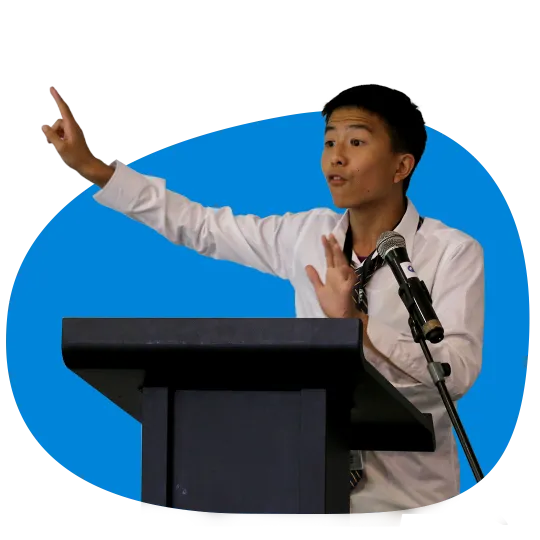 LearningLeaders public speaking Elite course is geared towards children with competitive experience in World Schools and/or British Parliamentary debate, or kids likely G8 or older. They receive guidance on a planned three-year course focused on core skills. They receive coaching from top coaches in the world.
Most are national and regional champion debaters. If children want to be coached to achieve their full potential, there is nowhere better in the world to train than in the LearningLeaders Elite Debate course.
The Elite public speaking course is ideal for middle and high school kids who have demonstrated exceptional commitment to competitive debate training and participation.
Competition Program
This effective public speaking workshop focuses on kids who have already demonstrated experience in debate and want to 'become the best'. Learners receive best-in-class preparation and guidance for competition participation.
They work with top coaches and top peers during prep.
Competition is a chance to execute skills that have been learned in the classroom. Participating in tournaments sharpens competitive instincts and allows kids to benchmark their progress against others and collect tangible achievements to help validate their hard work.
Conclusion
Effective communication is an invaluable skill that your child will benefit from developing now, and in years to come.
With LearningLeaders' dedicated public speaking course, you can ensure your child gets the attention and instruction they need to excel.
Learning public speaking skills can help create valuable opportunities that may otherwise be ignored or paved with significant obstacles.
Investing in a public speaking class at LearningLeaders can give your child a chance to build self-confidence and ultimately become a successful individual through effective communication techniques.
Our vision is a world where everyone is heard, respected, & understood. Through this vision, we will ensure your child is prepared to be a future leader, regardless of age or skill level.
Talk to us today to find out how we can help your child succeed!